Meet The Youngest UK Steam Driver For 50 Years
|
New Generation Set To Drive British Pullman Trains
Exciting news from the UK as Jim Clarke qualifies as a steam train driver at the age of 33.
Incredibly, he is believed to be the youngest driver to get his ticket for steam locos since 1968, when British regular steam trains ceased to operate.
Jim comes from a great pedigree, as his father drove steam back in the 1960s.
Jim is now qualified to drive the Belmond British Pullman Steam Train.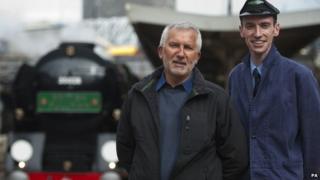 Image caption Jim Clarke said he had watched, listened and learned from his father, Don
Here is the original press release. Be sure to watch the video at the end.
A 33-year-old man has become the youngest steam train driver to qualify on the mainline for nearly 50 years.

Jim Clarke "passed out" as a qualified driver after he drove the Belmond British Pullman from London Victoria to Guildford, Surrey.

It is believed he is the youngest person to qualify since 1968.

He was following in the footsteps of his father, Don Clarke, who started driving steam engines in the 1960s but is now retired.

Mr Clarke, from Haywards Heath, West Sussex, said he had been watching, listening and learning from his father who spent 49 years working on the railway.

Image caption The Belmond British Pullman includes carriages dating back to 1925

Before setting off, Mr Clarke said: "A good few years of work has gone into it.

"Before, you have to be passed out as a fireman, work your time, be put forward for driving, go through the training and then hopefully today pass the driver's exam."

His father said: "We are very proud of him. It's something he's always wanted to do."

Explaining why he enjoyed driving steam trains, Mr Clarke Senior said: "You feel part of the machine and it's the sheer physical effort of what you put in to get the power out of the loco.

"It's quite satisfying if you've had a good run."

The Belmond British Pullman includes carriages dating back to 1925 and is hauled by the Clan Line engine, owned by the Merchant Navy Locomotive Preservation Society.
Jim Clarke's father said driving a steam train needed "sheer physical effort"
Watch this video to see Jim in action