Flying Scotsman Run Evokes Crazy News Crew Action
|
Historic Trip From London To York Plagued by Helicopters
Very exciting times for those rail fans in the UK, who can once again witness their beloved Flying Scotsman hauling passenger trains on the British main line. With her restoration now complete, it is hoped that she will steam ahead for many years, giving pleasure to thousands.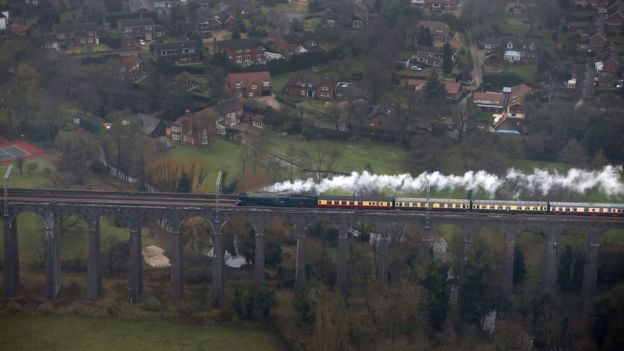 On February 25th, this long anticipated event happened, the engine being idle since 2006, spending the last 10 years completing a thorough rebuild. As the first locomoti8ve officially clocked at 100 mph (although several dispute this), and the first to travel non stop from London to Edinburgh, this locomotive deserves its place in history.
One hopes that this will increase interest in steam locomotive preservation in general, as it is a real shame to see these hissing machines laying idle in museums, or worse still being scrapped due to lack of interest.
The train was held up twice during the run, resulting an hour late arrival. This was due to people walking inside the safety fence. In addition there were three helicopters chasing the train. These can be seen in the video at the end.
While the whole trip looks like a bit of a circus, it does focus attention on steam trains, which is a good thing for all of us involved kn keeping these magnificent machines operating.
As one who has ridden in the cab of locomotives as far afield as Australia, South Africa and Paraguay, I can attest to the complexity of their operation, especially on high speed express trains.
For sure, when we visit the UK later this year, we will be looking for a ride in at least one of the preserved railways that span that continent.
Below are some details of the Flying Scotsman courtesy of the BBC.
Flying Scotsman
Designed by Sir Nigel Gresley, Flying Scotsman emerged from Doncaster Works on 24 February 1923

The British Empire Exhibition in 1924 made Flying Scotsman famous

In 1934, Scotsman was clocked at 100mph – officially the first locomotive to have reached that speed. But some claim City of Truro was the first steam engine to break the 100mph record, in 1904, when it apparently reached a speed of 102mph running down a slope

It is 70ft (21m) long, weighs about 96 tonnes and had a top speed of 100mph

It has travelled approximately 2,500,000 miles

During World War Two it was repainted wartime black

By 1995 it was part-owned by record producer Pete Waterman

The engine was bought for the nation in 2004 by the National Railway Museum (NRM) in York using £415,000 in public donations, a £365,000 gift from Sir Richard Branson and a £1.8m grant from the National Heritage Memorial Fund
Here is a video of 3 helicopters chasing the train north